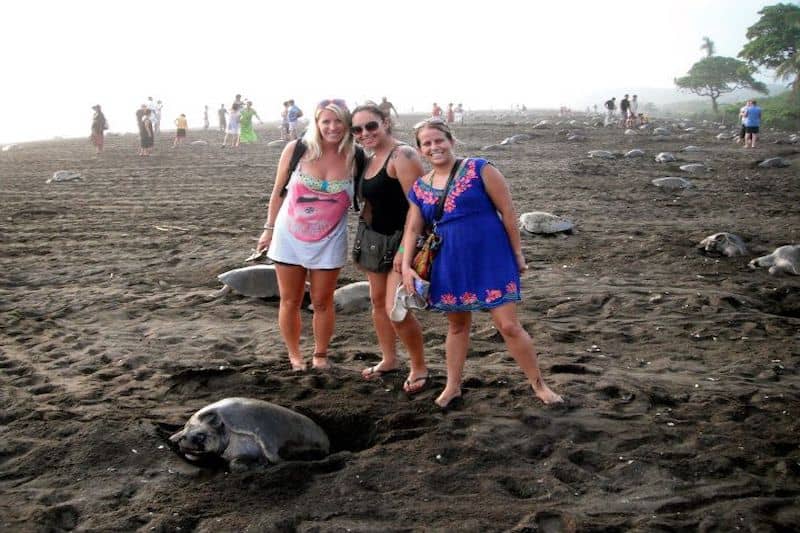 Disclosure: This article may contain affiliate/compensated links at no extra cost to you, for more information you can read my disclaimer
Are you planning a trip to Tamarindo? Want to know where the best beaches near tamarindo are so you can plan some day trips? Costa Rica is full of amazing beaches, but unless you are able to travel full time you will not be able to see them all.
So I have made a list of the best beaches near Tamarindo. So you can at least ensure that you can see the best beaches near you on your vacation.
I have broken it down into two categories. The best beaches for relaxing and the best beaches for surfing, although even if you don't surf you might want to check out the best beaches for surfing.
All these beaches are 10 minutes up to 1.5 hours from tamarindo. Making them the perfect spot to spend the day.
Best Beaches Near Tamarindo For Relaxing
1. Playa Conchal
This is one of my favorite beaches near tamarindo. It has beautiful crystal white sand and turquoise blue water. It is absolutely stunning, very long and perfect for swimming.
The perfect place to make you feel like you have a private beach. If you are planning on going for the day I highly recommend bringing food and drinks with you, since there isn't anything to buy on the beach.
Brasalito is the nearest town to playa conchal and is a great spot to have lunch. However,  it is about a 10-minute drive from the beach. So you have to plan for that ahead of time.
Duration from Tamarindo: 20-minute drive
2. Playa Flamingo
Just past playa Conchal is Playa Flamingo. It is a beautiful and more vibing beach than playa conchal. Here you will find a few restaurants and bars near the water. There are hotels around the beach, but not on the water so it is not as quiet as Conchal.
It also hosts some amazing sunsets. The water is calm enough that it makes it a great beach for swimming and hanging out with the kids all day. You will also find locals selling beers and coconuts on the beach, so you don't have to worry about bringing your own beverages.
Duration from Tamarindo: 30-minute drive
3. Playa Mina
This is a less popular beach. Mainly due to the fact that the road can get a little bumpy on your way there, but if you have the time I highly recommend this beach. It is a small cove and very different from the other beaches. There are loads of trees all around the beach. Which makes it the perfect place to hide in the shade when the sun gets too hot.
It is also not as popular, so you won't see as many people and it is probably a good idea to bring food and drinks here as well. The water is calm and the beach is sandy, making it a great spot to hang out and swim in the water.
Duration from Tamarindo: 30-minute drive
4. Playa Danta
If you are looking to do something a little more active than swim and relax on the beach all day, but you still want calm waters. This is the beach for you. You are able to rent paddleboards, mountain bikes, and even small sailboats for the day. The perfect beach to come and relax, but also has fun activities to enjoy as well.
There is a restaurant there, so you don't need to worry about packing a lunch. This is a great escape and fun for the whole family. The perfect spot to simply relax or engage in fun activities.
Duration from Tamarindo: 45-minute drive
5. Playa Ostional
This beach is a little further away than the rest, but if you happen to be in Costa Rica at the right time of year it is a must-see. It is known for its green turtles coming up and laying their eggs on the beach. So it is the perfect beach for any animal or turtle lovers.
If you are there at the right time of year you can see the turtles laying their eggs or even the turtle eggs hatching. The beach becomes covered in turtles. Actually so much so, that it is the only place in the world where it is legal to sell turtle eggs. Mainly because they have just so much of them they don't know what to do with them.
Green and leatherback turtles flock to this beach in the thousands. Usually around the new moon of the month. So for a few days every month, you can see thousands of turtles coming up to lay their eggs. Unlike most places, where you can only see the sea turtles at night. These turtles come during the day. Although the best time to see them is at sunset.
Best Time To Visit ( May – December)
Duration from Tamarindo: 1.5-hour drive
Best Beaches Near Tamarindo For Surfing
Now that we looked at some of the best beaches near tamarindo for relaxing and swimming. Let's look at some of the best beaches to spend the day surfing.
6. Playa Casitas
This beach is just a short walk from Playa Tamarindo. There is a river that you will have to cross and it does have crocodiles in it, so I highly recommend taking the boat taxi across the river. It is only $2 per person and it is highly worth it.
After you take the boat taxi continue following the beach until you get to two little houses. This is how you know you have found casitas.
It is a great break to surf and tends to not be as crowded as Tamarindo. It is also a great spot to hang out and watch the surfers. The beach is wide and tends to be quieter than other beaches. So whether you are surfing or reading a book, this is a great spot to pick
Duration from Tamarindo: 15-minute walk 
7. Playa Grande
Playa Grande is just down from Playa Casitas. You can either walk there or drive. It is a great long beach and perfect for taking a nice long beach walk or if you are a more advanced surfer it is great for surfing. There is a little taco shack on the beach that serves up great tacos and little snacks.
It is close to tamarindo and easy to access. Great for anyone looking to see more beaches in Costa Rica
Duration from Tamarindo: 30-minute drive or 1-hour walk 
8. Playa Langosta
Playa Langosta is on the other side of Tamarindo just further south. It is easy to get to by bus, car or even walking. There is plenty to do there. Whether you are surfing or just going to hang out for the day. There are restaurants and a market near the beach. There will be someone selling coconuts and beers on the beach as well.
It is a great beach for surfing, but also just hanging out. It tends to be a little rockier than the other beaches mentioned. So not always the best for swimming, especially if you don't pay attention to the rocks and currents.
They also sometimes have volleyball courts set up, for volleyball lovers.
Duration from Tamarindo: 5-minute drive or 15-minute walk 
9. Playa Avellanas
Playa Avellanas is one of the best beaches near tamarindo to go and spend the day. There is an amazing restaurant there that serves up the best food. It is a little pricey, so if you are trying to save money plan on eating before or sitting on the beach and bringing your own food.
It is great for surfers, families or pretty much anyone. Lola's or the restaurant there is made famous for their pet pig. The original Lola is gone, but they still have a pet pig that you can visit on the beach. This is the perfect spot to spend the day
Duration from Tamarindo: 30-minute drive
10. Playa Negra
Playa Negra is not only a black sand beach, but it is one of the best black sand beaches in Costa Rica.
Not only that but has an amazing surf break. The beach break is rocky and shallow, making for steep and fast waves.
So unless you know what you are doing I don't recommend surfing here. If you know what you are doing on a surfboard, you won't want to miss this spot.
It is just south of Avellenas. The town its self is pretty small, but you will still be able to find a market and a couple of places to eat at. Worth the trip if you are looking for more advanced surf breaks than just Tamarindo.
Duration from Tamarindo: 45-minute drive
If you are planning a vacation to Costa Rica and want the perfect 1-week itinerary?
So there you have it. The best beaches near Tamarindo. So who is ready to book their trip to Tamarindo?