When you think of a tropical vacation, you think of powdery, soft, white sand, stark turquoise blue waters, and the sun shining as bright as can be.
These are the most important aspects of a tropical vacation. However, while all of the best tropical vacations have perfect sand, warm waters, and sunshine, each destination has its own character that makes it special.
Whether it's the diverse landscape, the food, the culture, or the people, the best tropical vacations are more than just the sea, sand, and sun.
The tropical vacations on this list are some of the top destinations in the world for various reasons. Whether it's because of perfect waves for surfing, a nearby rainforest to explore, tons of excursions and activities offered, or it just has the very best beaches in the world, each tropical destination has made this list for a reason.
Best Tropical Vacations To Relax And Enjoy
Keep reading to learn more about 30 of the best tropical vacations in the world. If you're ready to get out of the cold and under the sun, it's time to pick your dream destination.
There are so many wonderful choices around the world. Depending on how far you want to travel or how much you're willing to spend, the options seem endless.
This list includes only one destination from an island or country so that you have as many choices as possible.
There are so many islands and tropical countries out there, probably more than you even realized. It's time to expand your breadth of tropical knowledge and discover the world out there.
1. Fraser Island, Queensland, Australia
Fraser Islands has some of the most beautiful beaches in all of Australia. The island is a UNESCO World Heritage site and the largest Sand Island in the world.
Kingfisher Bay is one of the most beautiful beaches on the island, but they're all gorgeous.
You have never seen clear water until you have been to wathumba creek beach on Fraser island.
There are several nice resorts and hotels on the island that will make your stay here easy and memorable.
2. Horseshoe Bay, Bermuda
This area of Bermuda is very popular, but it's also home to Port Royal Cove, which is a much quieter section of this bay.
The cove is secluded and calm, making it an excellent place for families to stay if you want to be able to swim with young children.
The beaches are known for their pink-colored sand and rock formations that give a dramatic backdrop.
Nearby hotels make great accommodations if you want to stay at this particular tropical beach.
3. Cancun, Mexico
Located on the tip of the Yucatan Peninsula of Mexico, Cancun is in the Riveria Maya and is a great place for your tropical vacation.
It's home to major resort destinations, and it's rather affordable due to its proximity to the US. You'll find tons of all-inclusive resorts, but there are many other great places to stay if you're on a budget.
Snorkeling, scuba diving, surfing, and exploring ancient Mayan ruins are some of the few activities you can enjoy in this region of Mexico.
Other nearby cities that would also make great tropical vacation destinations include Tulum, Playa del Carmen, and the Island of Cozumel.
So pack your bags for Cancun and let's go!
4. Maui, Hawaii
There are eight major islands that make up Hawaii, along with hundreds of smaller islands. All of the major islands would make for great tropical vacations, but Maui is the most tropical island with the best snorkeling.
You can have relaxing beach days or spend your time adventuring, hiking, exploring waterfalls, and snorkeling.
There are resorts, nightlife, and everything you could want in a tropical vacation.
While all the Hawaiian islands would be great, Maui is an especially good time.
5. Punta Cana, Dominican Republic
Punta Cana is home to 30 miles of powdery, white coastline against the turquoise Caribbean Sea. There are many resorts in this city, so you have more than enough options when choosing a place to stay.
This is a great place to enjoy water sports, snorkel, scuba dive, or relax on the beach. In addition, there are numerous all-inclusive resorts that allow you to be carefree for an entire vacation.
All-inclusive resorts can be great if you just want to have no cares whatsoever in the world. You don't have to worry about where to eat or how you are going to pay for the drinks because everything is included.
There are plenty of great all-inclusive resorts with swim-up pools.
6. Key West, Florida Keys
The Florida Keys are the southernmost point in the United States. They are a group of islands off the southern tip of Florida.
Key West is the southernmost island, and it is the most tropical. The Keys are some of the top beach getaways in the US, and Key West has many world-class resorts.
You'll find beautiful beaches, luxury spas, pools, bars, and a tropical atmosphere wrapped up into the perfect tropical vacation without needing your passport.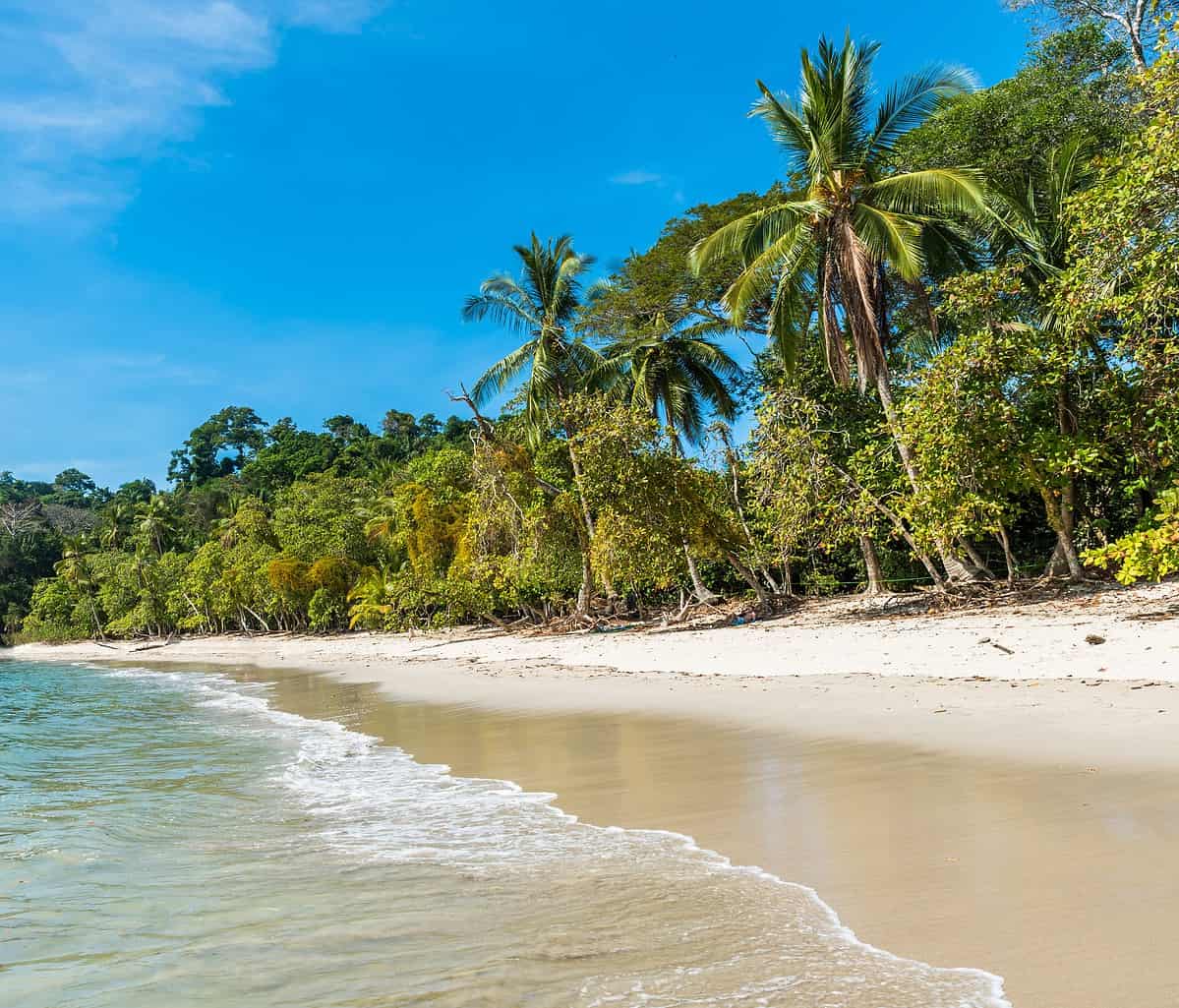 7. Quepos, Costa Rica
On Coast Rica's Central Pacific Coast, Quepos is a great tropical town. It's home to Manuel Antonio National Park, one of the country's most visited and beautiful parks, with rainforests, beaches, and many animals.
Right outside the park is a beautiful beach with rock formations on either side, creating a calming place to swim and relax.
This is a small town, but there are nearby hotels and many restaurants and bars on the beach strip. This area of Costa Rica is a tropical paradise with many places to stay.
The ocean is a stark turquoise blue against the white sand. You may even see monkeys going about their business if you're lucky. Also, there is plenty to do in Quepos, besides just sitting on the beach.
8. Harbor Island, Bahamas
The Bahamas is made up of more than 700 islands and cays with 16 major islands, all of which are home to resorts, hotels, restaurants, and bars. It's also a great place for snorkeling, fishing, relaxing on the beach, and exploring the various islands.
Harbor Island is a relaxing place to come to in the Bahamas, while still enjoying great restaurants without the big resorts.
Here there are offshore coral reefs where you can see tons of colorful sea life and they also have a famous pink sand beach.
The best part is the main source to get around this island is a golf cart, making it all the more fun. It is the perfect tropical escape any time of year.
9. Bora Bora, Tahiti
Bora Bora is the most famous island that makes up the Islands of Tahiti, and it's also part of French Polynesia, which is an overseas collectivity of France with more than 100 islands.
Bora Bora is one of those places everyone dreams of going to in life, and once you visit, you'll be dreaming about its beauty forever.
It's a popular luxury resort destination with high-end bungalows perched over the water. At the center of the island is Mt. Otemanu, a dormant volcano.
The entire island is surrounded by a ring of coral reefs which is known as an atoll. It's one of the world's best places for snorkeling and scuba diving.
This is one of the most luxurious, romantic, and beautiful places you could visit in the world. Save up! Because this location normally isn't cheap to visit.
10. Viti Levu, Fiji
There are 333 islands that make up the Archipelago of Fiji. However, Viti Levu island is a great choice.
This island is home to the international airport, so it's the easiest place to access in Fiji. Viti Levu has the most attractions if you want to be kept busy. It's also super easy to visit any of the other islands by hopping in a boat if you want to explore more.
You'll find beautiful beaches on this island and some of the world's best resorts where you can take in all the fantastic views. You can also learn a lot about the history of Fiji while in Viti Levu as well.
11. San Blas Islands, Panama
San Blas islands are something out of a moving and just scream tropical oasis. They are made up of 365 islands and kays, but only 49 of them are actually inhabited. It is the perfect remote tropical vacation.
The islands are a little more rustic, but if sleeping in an open tree house and eating fresh lobster every day sounds appealing, you might want to put them on your list.
It is the perfect rustic remote location, even better if you can do them on a boat. There are plenty of adventures to be had in the San Blas Islands.
12. Montego Bay, Jamaica
Bob Marley put Jamaica on the map. It's the home of reggae and tropical beaches. Jamaica has such a rich culture worth experiencing.
Montego Bay is an all-inclusive resort dream, with many to choose from, built on the best beaches Jamaica has to offer.
Take a day trip into Kingston to try local food, see Bob Marly's house and learn about the country's fascinating history.
Jamaica has so much spirit and authenticity to it. You can't help but feel its warmth.
13. Bali, Indonesia
Indonesia consists of over 17,000 islands, yes, you read that right. Bali must be special if it has been handpicked over that many islands.
Bali is like no other place in the world. It's known for its beautiful landscape, but also its culture. You'll get to try amazing food and meet interesting people, all while enjoying wonderful accommodations on the island.
It's one of the best travel destinations in the world and is highly praised by everyone who has visited.
There is something for every budget in Bali, which is a huge plus, so don't think it's only a place for the rich and wealthy.
Go live out your Eat, Pray, Love fantasy in Bali, you won't be disappointed.
14. Caye Caulker, Belize
Belize is a small country in Central America. Mainland Belize is great for jungle adventures, while the islands off the coast are great for sea and sand adventures.
Caye Caulker is a small remote island, that is popular with tourists. You won't find cars here only golf carts.
largest Belize island and the most popular. It is the perfect place to slow down and unwind.
Right along the beaches, there are small hotels to stay at.
This is also a great place for snorkeling because the barrier reef is less than a mile away. This laid-back island makes for a wonderful tropical vacation.
15. Mirissa, Sri Lanka
Sri Lanka has been nicknamed the teardrop of India, though Sri Lanka is its own country. It's a place everyone should visit if they get a chance. It has rich biodiversity, above and beyond beaches, and lots of history and culture.
Think India, but cleaner.
It may be small, but it offers a lot to see and do.
Mirissa is a lovely destination in Sri Lanka. It has a long stretch of beach and opportunities for surfing. It is also very popular with tourists and hosts some great bars and restaurants along the beach.
The best part about Mirissa is, everything is built along the beach, so leave your flip-flops at the hotel and walk the beach to everywhere you need to go.
16. Malé Atoll, Maldives
Speaking of Sri Lanka, the Maldives is a country located southwest of Sri Lanka and India.
Malé Atoll is the most famous island and home to the largest city that makes up the Maldives.
It's known for its year-round, consistent temperature. There are several high-end luxury resorts on this island, including some overwater bungalows, which are a great way to be right on the water and wake up and fall asleep to the serene sound of the ocean.
17. Boracay, Philippines
The Philippines consists of over 7,000 islands. Boracay Island has one of the best tropical beaches in the world, Puka Beach. The beach is lined with palm trees, and the sand is serene.
There are some budget-friendly hotels and resorts on the island and some luxurious accommodations.
For an ideal tropical vacation, consider Boracay Island. This island is the top tourist attraction of the Philippines, and it even limits the number of visitors, making it even more special to visit.
18. Koh Phi Phi, Thailand
The Phi Phi Islands consist of two islands, Koh Phi Phi Don and Koh Phi Phi Leh, but Koh Phi Phi Don is the only inhabited island, and this is where all the accommodations are.
The islands are off the Andaman Coast of Thailand, which is the west coast. These islands got their fame from being the setting of the Leonardo DiCaprio movie, The Beach.
If you visit Koh Phi Phi Don, you must also travel to Koh Phi Phi Leh where Maya Bay is. This is specifically where The Beach was filmed, and it's an unspeakably charming place.
It was closed off to tourists from 2018 to 2022 to plant coral reefs and revitalize the area. It has been reopened so it's the absolute best time to visit because it's as clean and healthy as it has been in years.
19. Vieques, Puerto Rica
Vieques is a wonderful tropical island off the eastern coast of Puerto Rica. It's most well-known for the boat tours in Mosquito Bay, which is the bioluminescent bay where microorganisms create a blue-green glow in the water.
It's one of the most unique sites in the world where you will feel like you glow in the dark when you swim at night. During the day, you'll find wild horses roaming the country; it's truly an unruly, undeveloped, wonderful island.
What's special about Vieques is that you won't find any mega-resorts. Instead, you'll find boutique hotels and guest houses. If this type of experience is much more up your alley, you'll love it here.
20. Mahé, Seychelles
Seychelles consists of 115 islands in the Indian Ocean off the coast of East Africa. It's known for its beaches, coral reefs, rare animals, and nature preserves.
Mahé is the largest island in Seychelles and home to the country's capital, Victoria. Praslin Island is another great island in Seychelles. No matter what island you choose to visit, your journey in Seychelles will begin in Mahé.
Mahé may be the largest of the Seychelles islands, but it's only 59 square miles and 17 miles long and 5 miles wide. Victoria is the smallest capital city in the world.
21. Bazaruto, Mozambique
The Bazaruto Archipelago is a group of 6 islands off the southern coast of Mozambique, and all are part of Bazaruto National Park. Bazaruto is the largest of the islands.
In this Archipelago are coral reefs, sand dunes, rare animals, wetlands, forests, and grasslands, creating a very diverse and beautiful landscape.
These islands aren't as touristy as some other places on this list, so if that's what you're looking for, you'll enjoy it here. There is so much to do on this island; it's the perfect tropical vacation.
22. Palm Beach, Aruba
Aruba is a small country in the Caribbean and a constituent country of the Kingdom of the Netherlands. It's technically a part of the continent of South America.
It's a popular tourist destination, especially Palm Beach. The resort area has lovely white sand and turquoise waters and is excellent for snorkeling and partaking in other water sports.
Another huge perk about Aruba is it's outside of the hurricane belt, so it's a great place to visit year-round, including visiting in October. There are great all-inclusive packages and you never have to worry about the weather, it's about as carefree as it gets.
23. Bridgetown, Barbados
Barbados is an awesome Caribbean island, especially if you love history. You'll find a 17th-century synagogue and 17th-century plantation houses.
It is one of the smaller islands in the Caribbean, but though it's small, it's mighty. There are tons of activities offered and an amazing landscape to explore, including botanical gardens, caves, and more.
Barbados can be broken up into four regions, including the upscale west coast, rugged north coast, modern south coast, and rustic east coast.
The south and west coast are the best areas to stay on the island. Bridgetown is the capital of Barbados, and just south, you'll find many of the resorts. This is located in southwest Barbados.
24. Chania, Crete, Greece
Greece is made up of the mainland and lots of islands. Crete is the biggest island in Greece and is full of rich history. Greece, in general, is a very historic place, so if you love history, you will love exploring this country.
Crete is a very romantic place and popular for honeymooners and couples. The town of Chania is a great resort town to stay at where you'll find a lot of accommodations and many things to do.
This is located on the north coast of the island. The South Coast is your best bet if you'd like a more secluded experience. Enjoy the insane landscape and the Mediterranean while on this special island.
25. Lamu Town, Lamu Island, Kenya
Just off the north coast of Kenya, Lamu Island is a very tourism-heavy part of the country. It's known for its amazing year-round weather and, of course, its perfect beaches and clear waters.
The east coast of the island is a more commercialized and touristy area. This is where you'll find most of the resorts. Lamu Town is the best place to stay if you want to be within the hustle and bustle of the island.
Lamu Island is very close to mainland Kenya and also very close to Manda Island.
26. Maundays Bay, Anguilla
If you are looking for secluded beautiful beaches, not too far from home you might want to think about visiting Anguilla in the Caribbean. It is a beautiful remote island owned by the United Kingdom. So if you are wanting some close tropical vacation spots, this is a great option.
The beaches are white powdery sand and the water a crystal clear turquoise blue, they are pretty spectacular. It is pretty easy to get to by flying into Saint Maarten and taking a ferry over there.
The perfect tropical escape.
27. Mallorca, Balearic Islands, Spain
The Balearic islands are an archipelago off Spain in the Mediterranean. Mallorca is the largest of the islands and is most known for the Serra de Tramontana mountains and, of course, its beautiful beaches and scenic coastline.
Palma is the capital city on Mallorca island, with a Gothic Cathedral designed by the famous Antoni Gaudi, who is known for designing most of Barcelona.
This is the main cultural and economic hub of the island. Many young Europeans vacation on this island, so it's a cool place to go if you want to feel young and hip.
You'll find lots of young European students in the pubs, bars, and clubs on the island. There is so much to do here, you'll love it.
It's not so tropical, but a great place to visit in the summer months.
28. Rarotonga, Cook islands
The Cook Islands are a nation in the South Pacific with 15 islands covering a vast area. Rarotonga is the largest of the islands, with rugged mountains and the nation's capital, Avarua.
You'll fall in love with this island because there are no buildings taller than a coconut tree and no stoplights; it's a super authentic place.
Not many people from North America visit these islands so you have the chance to be one of the earlier travelers here and discover it for yourselves.
If you're looking for true island life, this is it. It has an untouched charm and beauty just waiting for you.
29. Saint Lucia
Located on the Eastern side of the Caribbean, Saint Lucia is an island nation known for the Pitons mountains, volcanic beaches, and reef-diving sites.
It also has many luxury resorts that make for the perfect place to stay. On the island's interior, you'll find rainforests, waterfalls, and a diverse landscape.
The Pitons mountains create a dramatic backdrop against the coastline, allowing you to enjoy the white beaches, turquoise waters, and green mountaintops which all together create quite the picturesque scene.
If you're looking for a beach vacation with some of the most stunning scenery, this is your place. The mountains will loom in sight from every direction, and it's beyond gorgeous. It is also one of the safest Caribbean islands, which is always a plus.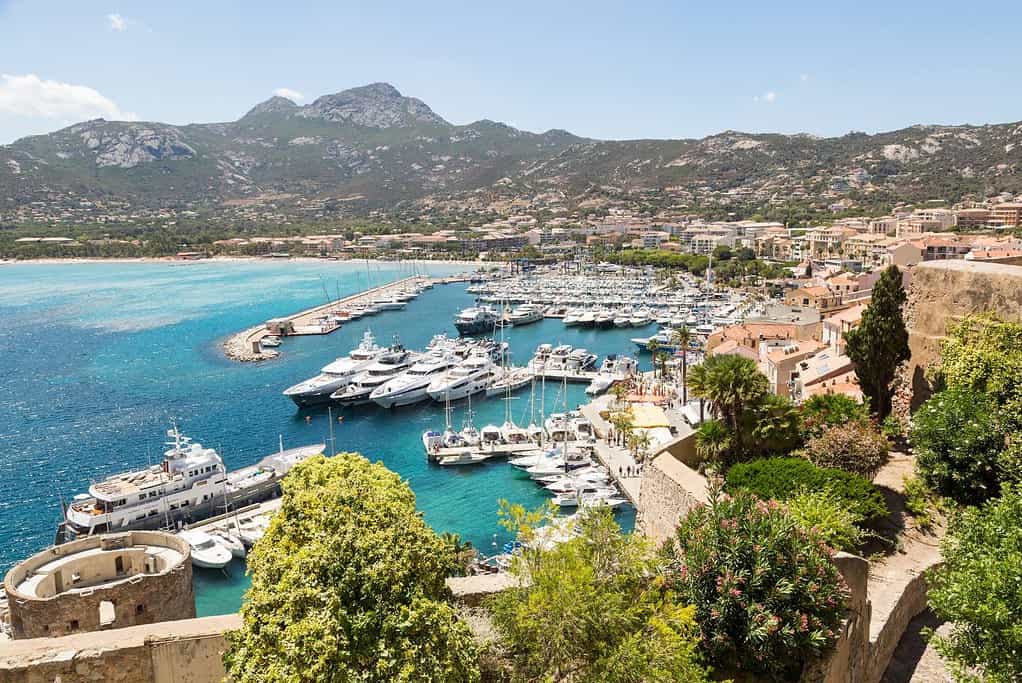 30. Ajaccio, Corsica, France
Corsica is an island off the coast of France. It's a mountainous island with a dense forest in the middle. There are coastal towns scattered around the island that has a distinct Italian culture even though the island is part of France.
Ajaccio is the capital of Corsica and is a port city on the western coast. It's famous for being the birthplace of Napoléon Bonaparte, and his home is now a museum displaying heirlooms of his history.
It has many great restaurants along the water and wonderful beaches with lots of sea glass. The water is so clear when swimming that you'll spot colorful little fish below your feet.
Ajaccio is a great place to vacation because you can enjoy modern restaurants, unspoiled nature, and picturesque beaches all in one vacation.
31. Perhentian Islands, Malaysia
The Perhentian Islands are made up of several islands, including the two large main islands, Perhentian Besar and Perhetian Kecil. These islands are known for their coral reefs, so they're great for snorkeling and scuba diving, where you'll find lots of colorful fish, sea turtles, and other unique sea life.
Perhetian Kecil is the smaller of the two islands but it's the more popular island to stay on.
Besides the main activities of snorkeling and scuba diving, this is also a great place to relax or go on an adventure through the jungle.
32. Grand Baie, Mauritius
Located in the Indian Ocean is the small country of Mauritius, a beautiful tropical paradise. It is a colorful little beach town that is perfect for any tropical vacation. It has nightlife, great beaches, amazing snorkeling, and is perfect to visit year-round.
However, the best part about it is Mauritius is still off the beaten path, so you won't find loads of tourists here.
33. Go on a Cruise
The last thing to mention is cruises. If you're looking to go to a tropical destination but don't have anywhere specific in mind, or everything on this list sounds good, why not go on a cruise?
Everything will be planned for you and you will get to see multiple locations. This way you don't have to pick only one tropical location for your vacation and instead can enjoy several.
There are also a lot of perks to cruises, including all-inclusive food, drinks, and accommodation. The trip will also be planned for you, so you don't have to do much but show up! So sit back, relax, and enjoy the tropical destinations headed your way.
Conclusions On The Best Tropical Vacations
There are so many beautiful tropical destinations all over the world. If you're in need of a vacation, hopefully, you found a place on this list that you haven't been to yet and feel excited about.
There is a wonderful world out there to explore. It's time to start packing and make your dream vacation a reality. What's stopping you? Things come and go, but good memories are forever.
Go spend a week on an exotic beach and enjoy one of these best tropical vacations. It will surely be one of the most memorable weeks of your life.
Everyone needs some relaxation in their life throughout the year. A vacation with no responsibilities, chores and no work is necessary for rejuvenating yourself and reenergizing your mind, body, and soul.
Related Content
Packing list for Tropical Vacations
Best Tropical Islands for Solo Females